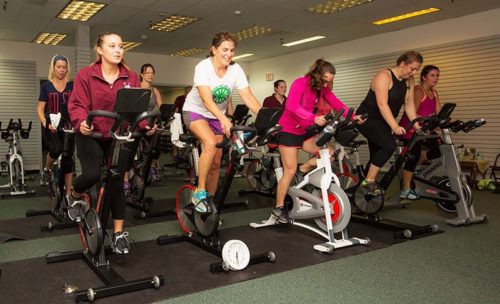 Spinning is like no other fitness class. It consists of nonstop indoor cycling on stationary bikes, held in a darkened room with loud, energizing music and allows you to "ride your own ride"… meaning you can take your workout to any level you want. Each class is led by a spinning instructor who will encourage you to push yourself in an effort to increase stamina and lower body strength. It is a blend of cardio and resistance training that will leave you breathless but invigorated!
New to spin? No problem! Our instructors will help you adjust your bike appropriately before class starts. Spinning is specifically designed so you can ride at your own pace while staying on track with the group. Just show up a few minutes early with sneakers, a small towel and water and you'll be in for a treat.
Drop in to any class, no pre-registration needed!
Try out each of our instructor's classes!
Your first attendance at each instructor's class is free.
RATES

24 hr Fitness Center Membership and Unlimited Spinning
Unlimited Spinning

Monthly – $70

Monthly – $55

+ one time $20 enrollment fee
24 hr Fitness Center Membership, Unlimited Classes and Spinning


(includes Cross Training, Tabata, Yoga & PiYo)

 Per Class

Monthly – $99

$5

+ one time $20 enrollment fee
Ready to Join Us?
Sign up at our Front Desk!
We'll be waiting for you M-F 6A-7P & S-S 8A-12P